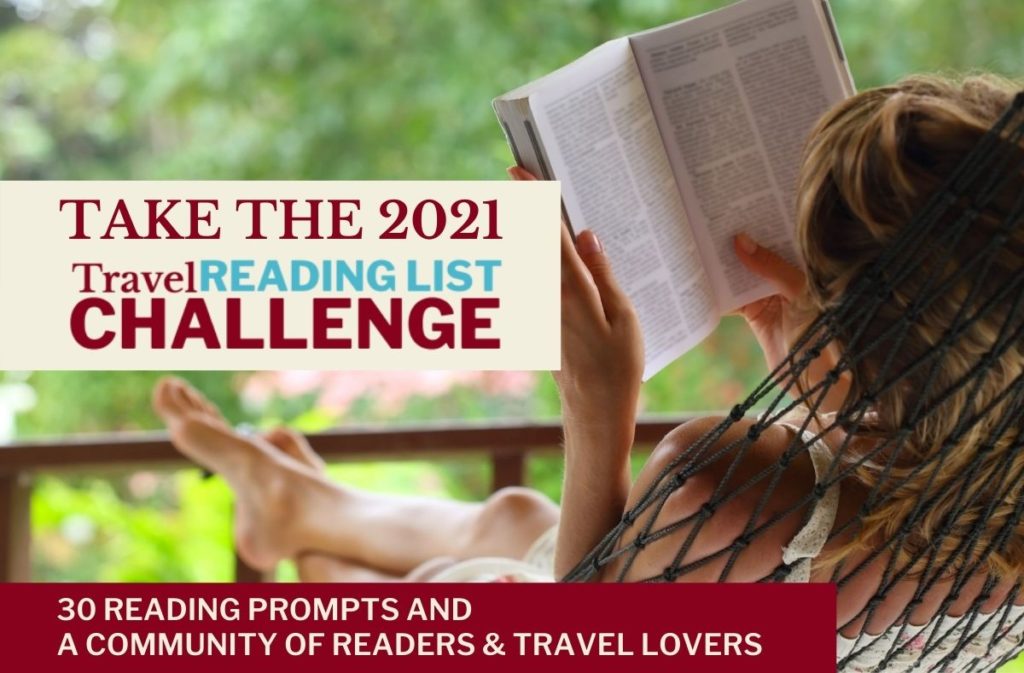 Happy New Year!
I'm sure we're all glad to have 2020 in the rearview mirror with high hopes that 2021 will be full of travel, laughter, and lots of good books.
This is the fourth year that we've done the Travel Reading Challenge and we're excited about it every single year. The Travel Reading List Challenge was founded by Mary Jo Manzanares out of a love of reading and curiosity for the world – and as a means of exploring new topics, writers, and points of view. It's also a way to decide what to queue up in the Kindle so there's always something to read while traveling.
The reading challenge is designed for those who love travel and who love to read. For people who have a curiosity about the world around them, those who are always looking for their next great read (whether picking it up in an airport bookstore or finding wi-fi to download to their Kindle), those who want more ideas about what to read, and those who want to explore the world in person and through a good book.
The basic reading challenge has a pace of two books per month, for a yearly total of 24 books. The advanced portion of the reading challenge adds on another six books, bringing the yearly total to 30 books.
The challenge is self-paced. Read what you want, when you want it, there's no order you must follow. Feel free to interpret the list in any way you wish, choosing the type of books that you enjoy. However, we also hope you'll be encouraged to try some new authors, genres, and add new voices to your reading list – that's part of the fun of the challenge, expanding your view of the world around you.
Your guides for the 2021 reading challenge are:
Mary Jo Manzanares – Mary Jo is an avid traveler and reader. With a bag always packed, and a Kindle always full of books to read, she and her husband travel the world in search of value luxury destinations and experiences. She loves a good legal novel as well as an eclectic mix of historical fiction, biography, chick lit, and random topics that catch her eye. Mary Jo enjoys the reading challenge as a way to discover new authors and books that wouldn't typically be on her to-read list and loves getting ideas from other book lovers in the Challenge Facebook group. Mary Jo blogs at Traveling with MJ and Discovering Washington State. She has her own book scheduled for publication in 2021.
Mary Jo will be start off the challenge reading: Year One by Nora Roberts. She's not sure which prompt this will best fit, there are a few that could work.
Carol Guttery – Carol is the chief wordsmith for the travel website Wayfaring Views where she helps her readers explore beyond the obvious. She also helps travelers explore California with California Crossings. Carol is a first-class book nerd and a recovering bookseller. She believes that travel and reading are intrinsically connected and all her trips are paired with a reading list. She's a big fan of fiction and loves dystopic stories like Station Eleven, hacker fiction like Alif the Unseen, and books about bookstores like The Storied Life of AJ Fikry. Carol's goal for the reading challenge is to stretch into some new genres and get ideas for her ever-expanding TBR list.
That said, she is going to start the year with a favorite- David Sedaris' new book "The Best of Me", on audio of course.
Like you, both of us are starting the challenge from scratch and we'll be tackling the challenge right along with you. We will be updating our selections here throughout the year, so check back often.
For suggestions of what to read, lively discussions about our favorite books, and recommendations of what to take along on your next trip, please join our Facebook Group. We are directing all discussions, comments, and questions about the reading challenge to that group. Please join us!
You can also sign up for our monthly newsletter here. We anticipate quarterly updates with recommendations on what to read, new releases, and more.
Basic Challenge (an average of two books per month)
A book with a main character over 60
A book with a main character under 25
A book written by someone under 30
A book that has had a television adaptation
A book about or set in Seattle
A book by an author whose last name starts with the same letter as yours
A book written by a debut author
A book with an LGBQT+ character or subject
A book with a black cover
A book that makes you feel hopeful
A book set in a destination that you haven't visited
An audiobook 
A book about productivity
A book about or set in Scotland or set in the Caribbean
A book by a Jewish author
A book by a Black author
A book with an ordinal in the title
A book with a map on the cover
A book about food that isn't a cookbook
A book with a color in the title
A book set in or by an author from your home state
A book set in the 1920s
A book about or that features a conspiracy theory
A book that's been sitting in your TBR (to be read) pile for too long
Advanced Challenge (an additional six books)
A book by a journalist or about journalism
A graphic novel or comic
A book about immigrants or immigration
A book of mythology or folk lore
A book that is classic travel literature
A book that has been translated
Click on the link below for a printable check-off list and keep track of the books you are reading in the challenge.